Category: Audio Products
Published: Monday, 26 October 2020
Written by Richard Hoogeveen
PreAmp PGA2310 PRELUX
The latest version of the HMR-audio preamp PRELUX. This preamp is based on the PGA2310 digital volume control chip of Texas Instrument. A few of these preamps are already sold to audio enthusiasts. The 10mm thick 6082 Aluminum case is CNC by HMR-audio, software, pcb's and complete design is done by HMR-audio.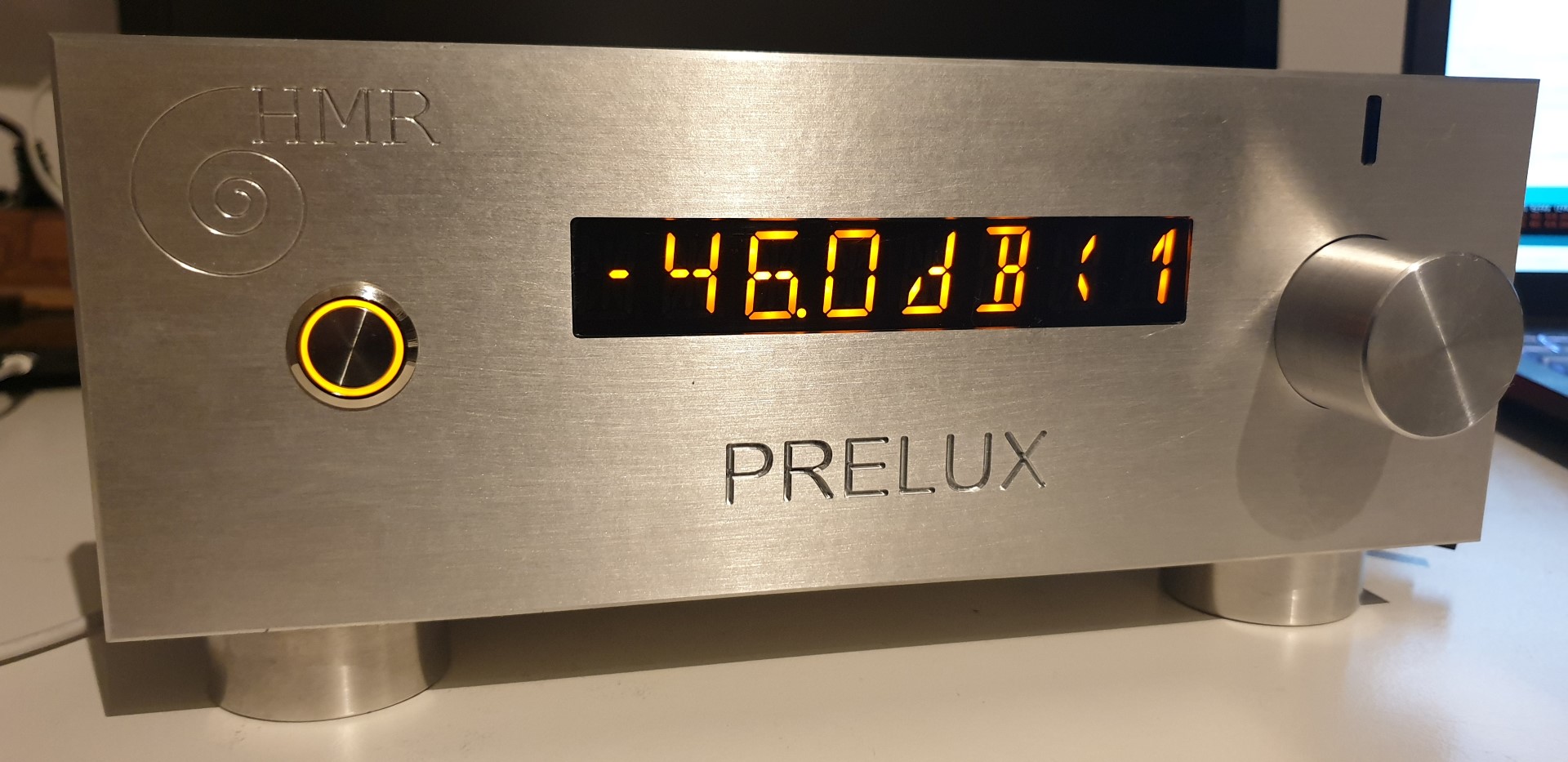 This design is way different then the cheap sets on the Chinese market, so read on !
This latest models have been an integration of ideas of Jan Mulder and me. The inputs are buffered with Burr-Brown opamps to get rid of the possible DC offset. The outputs are also opamps of Burr-Brown to prevent load distortion of the PGA2310 outputs. Measurements on the pre-amp have proved that the complete distortion is very low. The discrete low noise power supply for the analog part is based on the LM337/LM317 and a separate power supply for the digital part. I use good quality parts like for example Wima Poly Film capacitors in the audio line.
The control is based upon an Arduino that takes care of setting the inputs, digital volume control signals PGA2310, remembering the volume levels, infrared remote, LCD,  rotary encoder knob/switch and startup shutdown sequence. 
Other case and display designs on request.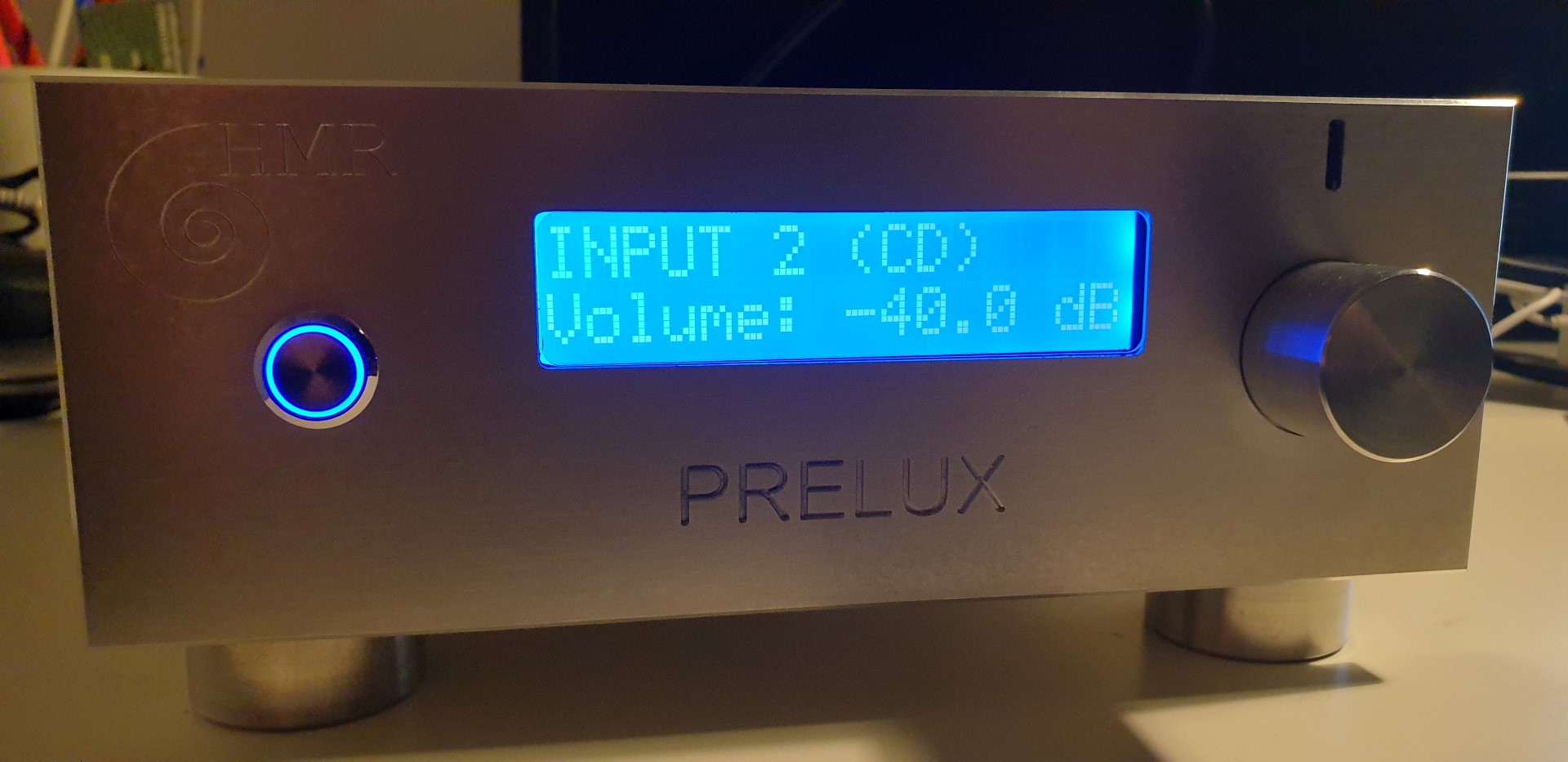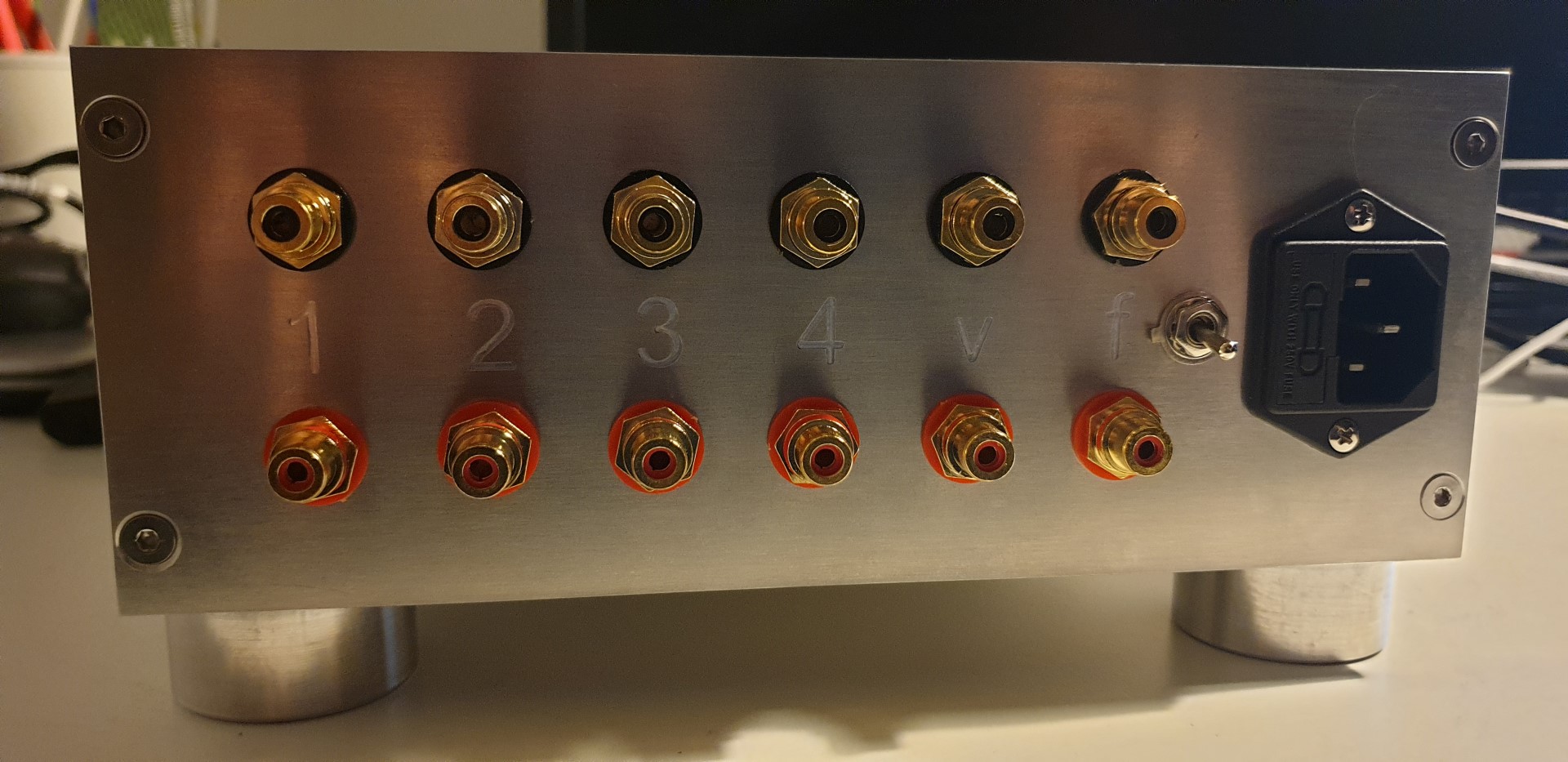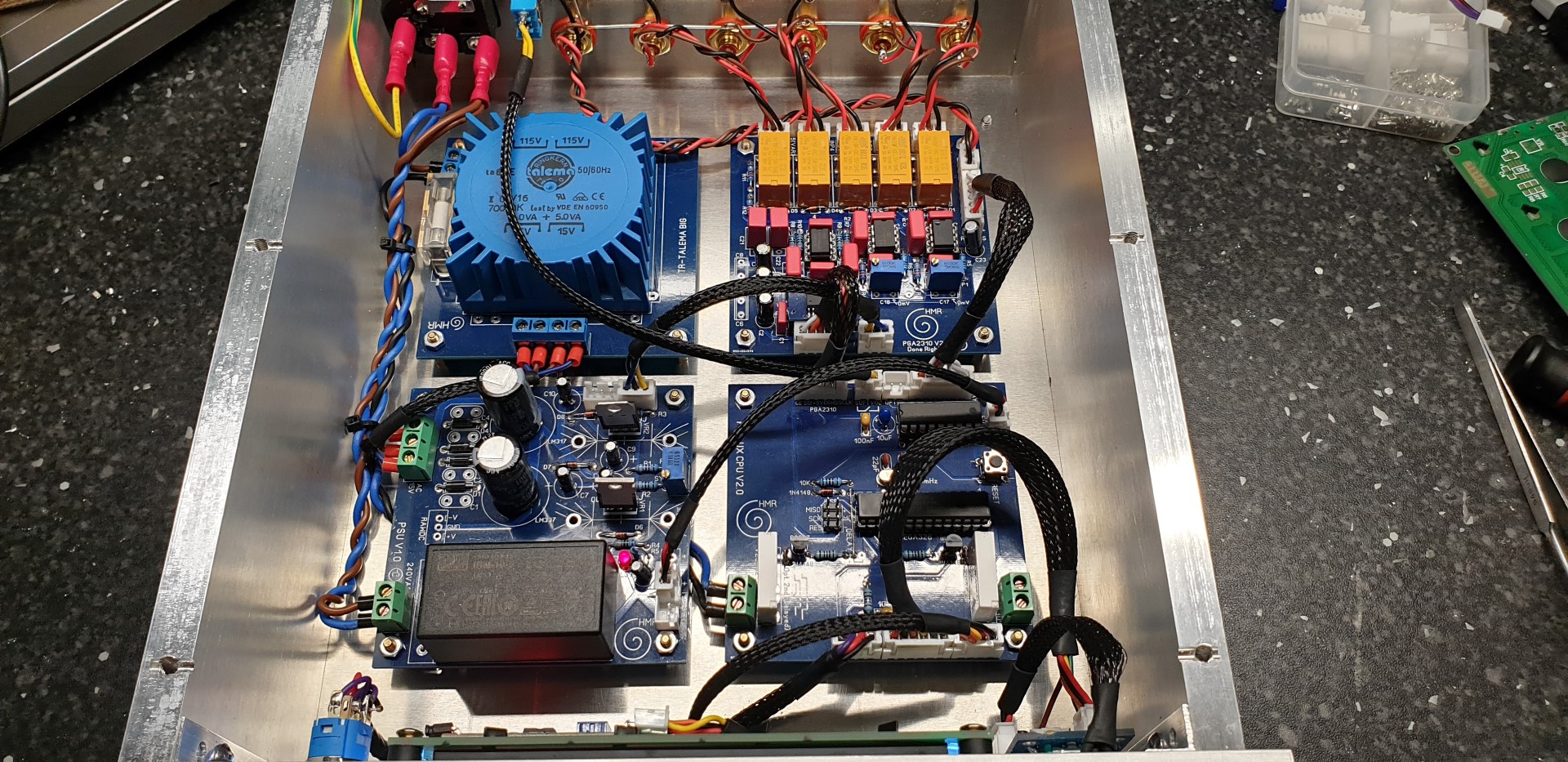 Specification:
230VAC/4 Watt
4 x RCA Stereo inputs
1 fixed RCA output
1 volume controlled RCA output
softstart switch, all start with -40dB or latest saved volume level
31.5dB to -95.5dB in steps of 0.5dB noisefree
low noise and distortion, around 120dB dynamic range, 0.004% THD+N at 1 kHz
Interchannel crosstalk -126 dBFS
On/Off button takes care of clean shutdown and startup
2 x 16 LCD or Amber Led
Manual turn and push knob for volume control and input choice
RC-5 remote control capable, address 16, On/Off , Volume +/-, Mute, ch1, ch2, ch3, ch4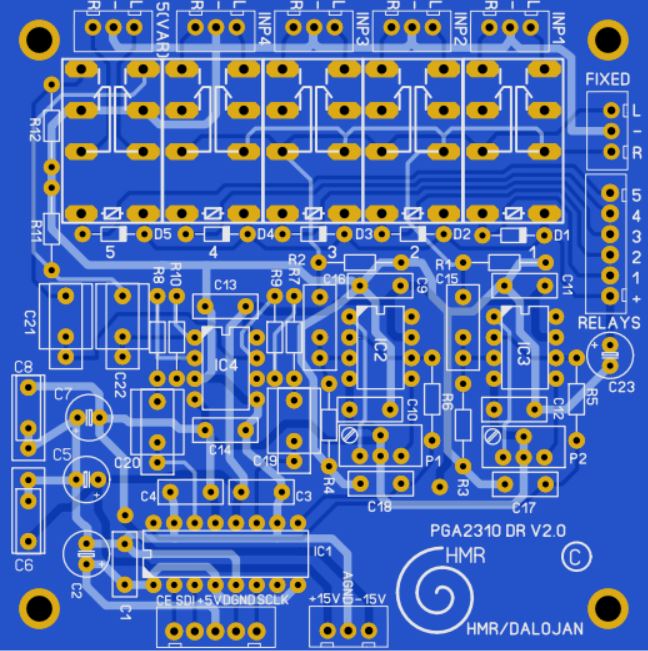 Optional: PHOLIX MM RIAA PreAmp (PHONO input turntable)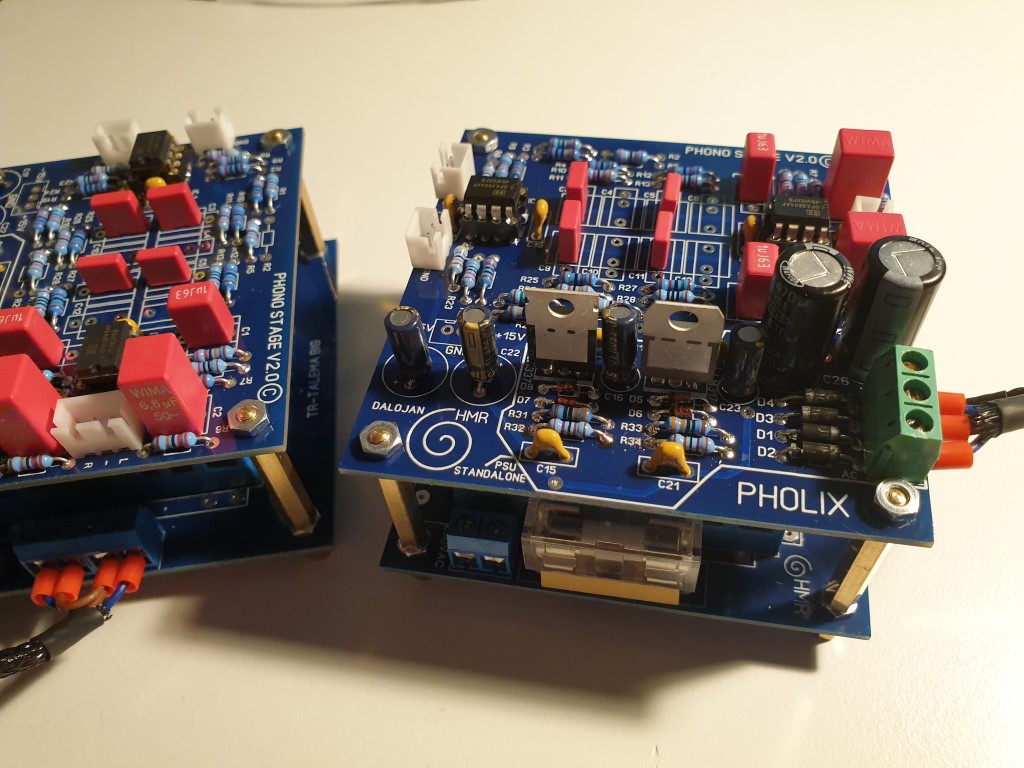 Optional: HMR-audio RC-5 remote RELUX (handcrafted full aluminum 300gr)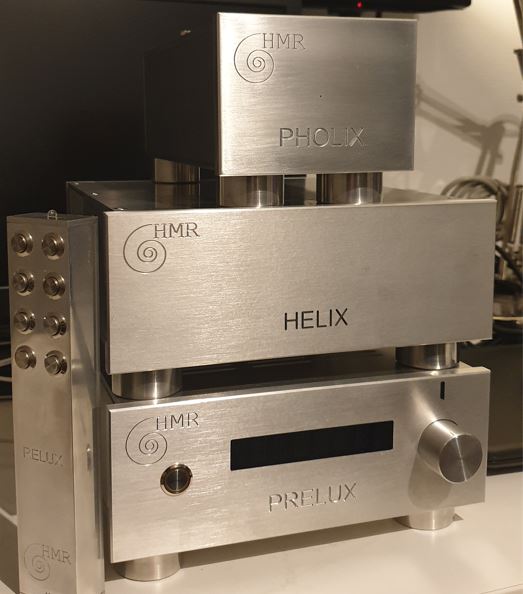 Hits: 3264